High-intensity focused ultrasound (HIFU) is a minimally invasive medical procedure that uses ultrasound waves to treat certain conditions, such as tumors, uterine fibroids and tremor. The very high-intensity and highly focused sound waves interact with targeted tissues in your body to modify or destroy them.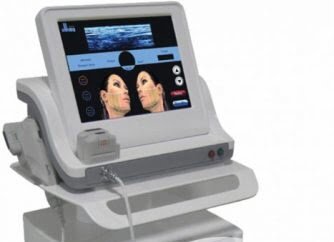 A HIFU facial uses ultrasound to create heat at a deep level in the skin. This heat damages targeted skin cells, causing the body to try to repair them. To do this, the body produces collagen to aid in cell regrowth. Collagen is a substance in the skin that gives it structure and elasticity.
According to the American Board of Cosmetic Surgery, nonsurgical ultrasound treatments such as HIFU can:
tighten the skin on the neck
reduce the appearance of jowls
lift drooping eyelids or eyebrows
smooth wrinkles on the face
smooth and tighten chest skin
The type of ultrasound that this procedure uses is different than the ultrasound that doctors use for medical imaging. HIFU uses high energy waves to target specific areas of the body.
The technology is different from that used in ultrasonic imaging, though lower frequencies and continuous, rather than pulsed, waves are used to achieve the necessary thermal doses. However, pulsed waves may also be used if mechanical rather than thermal damage is desired. Acoustic lenses are often used to achieve the necessary intensity at the target tissue without damaging the surrounding tissue. An analogy is using a magnifying glass to focus sunlight; only the focal point of the magnifying glass has high intensity. Although lenses have traditionally been used, phased arrays are increasingly common as they allow the focal position to be easily changed.HIFU uses focused ultrasound energy to target the layers of skin just below the surface. The ultrasound energy causes the tissue to heat up rapidly.
Once the cells in the targeted area reach a certain temperature, they experience cellular damage. While this may seem counterintuitive, the damage actually stimulates the cells to produce more collagen which is a protein that provides structure to the skin.
The increase in collagen results in tighter, firmer skin with fewer wrinkles. Since the high-frequency ultrasound beams are focused on a specific tissue site below the skin's surface, there's no damage to the upper layers of the skin and adjacent issue.
HIFU may not be appropriate for everyone. In general, the procedure works best on people older than 30 with mild-to-moderate skin laxity.
People with photodamaged skin or a high degree of loose skin may need several treatments before seeing results.
Older people with more extensive photo-aging, severe skin laxity, or very saggy skin on the neck aren't good candidates and may need surgery.
HIFU has many aesthetic benefits, including:
wrinkle reduction
tightening sagging skin on the neck (sometimes called turkey neck)
lifting the cheeks, eyebrows, and eyelids
enhancing jawline definition
tightening of the décolletage
smoothing the skin
Study results are promising. A 2017 studyTrusted Sourceinvolving 32 Korean people showed that HIFU significantly improved skin elasticity of the cheeks, lower abdomen, and thighs after 12 weeks.
In a larger study of 93 people, 66 percent of those treated with HIFU perceived an improvement in the appearance of their face and neck after 90 days.
HIFU treatment areas?
• Brow lifting
• Jowl lifting
• Mid face lifting
• Nasolabial fold reduction
• Neck lifting and tightening
This treatment results in overall skin tightening and rejuvenation.
There are many advantages of this treatment, including:
• No cuts to the skin
• Noticeable results
• Annual treatment
• No recovery time
Just one session of 3D HIFU will produce immediately visible effects, lifting and tightening the skinc. It will also continue o create new collagen, helping your skin maintain a youthful glow.*
How soon will you see results with HIFU?

In order for the full effect to begin, it takes about six weeks. So, you will see maximum results between around six to twelve weeks after the treatment. The results will last around twelve months. So you would only plan to have this treatment done once a year.