Explore the Best of Germany's Tourist Spots
Germany is a country that is brimming with history, culture, and natural beauty. From vibrant cities to picturesque landscapes, there is something for everyone to enjoy. Whether you are a history buff or a nature enthusiast, Germany's top tourist spots have something to offer. In this article, we will take you on a virtual journey through the country's best tourist spots, showcasing the unique features and attractions of each destination.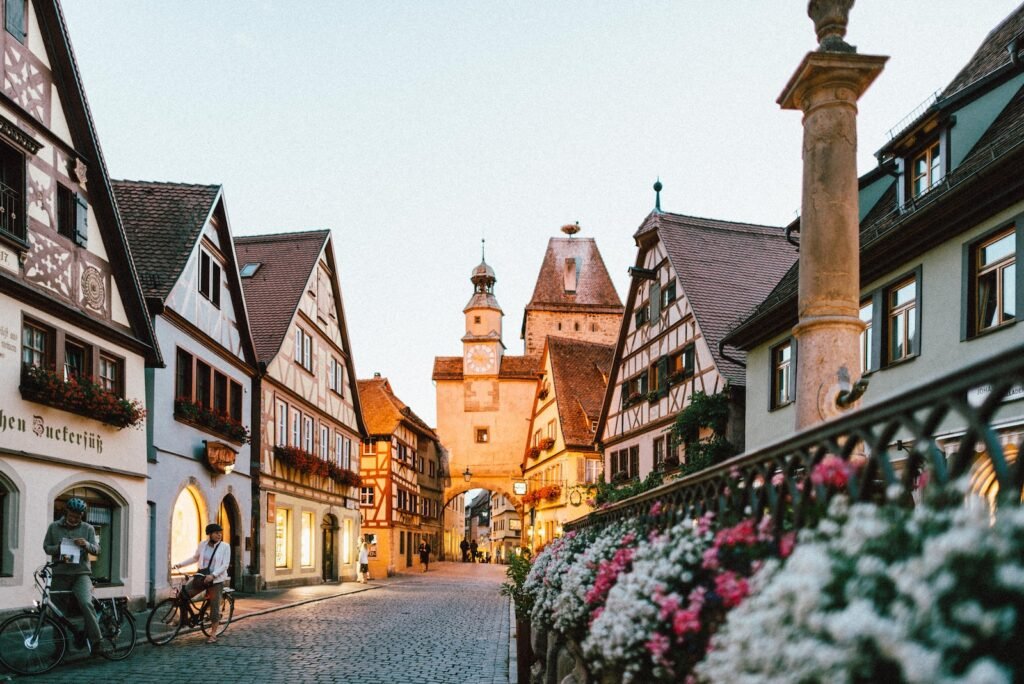 1. Berlin: Unravel the Rich History and Vibrant Culture
Berlin, the capital city of Germany, is a melting pot of history and culture. It is home to iconic landmarks such as the Brandenburg Gate and the Berlin Wall. History buffs can explore sites like the Holocaust Memorial and the Checkpoint Charlie Museum, while art enthusiasts can immerse themselves in world-class museums like the Pergamon Museum and the Gemäldegalerie. Berlin's vibrant nightlife, bustling markets, and diverse culinary scene make it a must-visit destination for all types of travelers.
2. Munich: Delight in Bavarian Charm and Oktoberfest
Munich, the capital of Bavaria, is a city that exudes charm and tradition. It is most famous for its annual Oktoberfest celebration, where millions of visitors gather to enjoy beer, traditional music, and Bavarian delicacies. Aside from Oktoberfest, Munich offers a wealth of attractions, including the stunning Nymphenburg Palace, the historic Marienplatz, and the renowned BMW Museum. With its relaxed atmosphere and friendly locals, Munich is a city that welcomes visitors with open arms.
3. Hamburg: Sail Away to Germany's Maritime Metropolis
Located on the banks of the Elbe River, Hamburg is Germany's second-largest city and a major port. It is known for its maritime history, stunning architecture, and vibrant nightlife. Visitors can take a boat tour of the harbor, explore the historic Speicherstadt district, and visit the impressive Elbphilharmonie concert hall. Hamburg also offers a range of cultural attractions, including the Kunsthalle art museum and the Miniatur Wunderland, the world's largest model railway.
4. Cologne: Marvel at the Iconic Cologne Cathedral
Cologne is a city that captures the imagination with its stunning Gothic architecture and rich history. At the heart of the city stands the iconic Cologne Cathedral, a UNESCO World Heritage site and one of Germany's most visited landmarks. Visitors can climb to the top of the cathedral for breathtaking views of the city. Cologne also offers a vibrant arts scene, with numerous museums and galleries showcasing contemporary and classical works. Don't forget to visit the charming Old Town and experience the local Kölsch beer.
5. Heidelberg: Step into a Fairytale in Germany's Romantic City
Heidelberg is a city that seems to have stepped out of a fairytale. With its picturesque setting on the Neckar River and the stunning Heidelberg Castle perched on the hilltop, it is a destination that captures the hearts of visitors. The city is also home to Germany's oldest university, adding to its intellectual and cultural atmosphere. Take a stroll along the historic Old Town, visit the beautiful Philosophers' Walk, and don't miss the opportunity to experience the renowned Heidelberg Spring Festival.
6. Dresden: Admire the Baroque Beauty and Elbe River Views
Dresden, often referred to as the "Florence on the Elbe," is a city that enchants visitors with its stunning architecture and cultural heritage. The city's crowning jewel is the Zwinger Palace, a magnificent example of Baroque architecture. The Semper Opera House and the Frauenkirche are also must-see attractions. Visitors can take a relaxing walk along the Elbe River, explore the vibrant Neustadt district, and indulge in the city's culinary delights, including the famous Dresdner Stollen.
7. Rothenburg: Wander through a Medieval Time Capsule
Rothenburg ob der Tauber is a town that transports visitors back in time to the medieval era. Its well-preserved half-timbered houses, cobbled streets, and towering city walls make it a truly enchanting destination. Visitors can explore the medieval fortifications, visit the renowned Christmas Museum, and climb the Town Hall tower for panoramic views. Don't forget to taste the local delicacy, the Schneeball (snowball), a fried pastry covered in powdered sugar.
8. Neuschwanstein Castle: Be Enchanted by a Fairy-Tale Fortress
Perched on a hilltop in the Bavarian Alps, Neuschwanstein Castle is a true fairy-tale come to life. Built by King Ludwig II, the castle is a masterpiece of Romanesque Revival architecture. Visitors can take a guided tour of the castle's opulent interiors, stroll through the surrounding gardens, and enjoy breathtaking views of the picturesque landscape. It is no wonder that Neuschwanstein Castle is one of Germany's most visited attractions.
9. Black Forest: Embrace Nature's Beauty and Serenity
The Black Forest is a region of dense forests, rolling hills, and charming villages, offering a haven for nature lovers and outdoor enthusiasts. Hiking and biking trails wind through the scenic landscapes, while picturesque towns like Triberg and Freiburg offer a glimpse into traditional Black Forest life. Visitors can also indulge in the region's famous Black Forest cake and explore the fascinating Black Forest Open-Air Museum.
10. Rhine Valley: Cruise Along Germany's Picturesque Wine Region
The Rhine Valley is a picturesque region known for its vineyards, charming villages, and medieval castles. Visitors can embark on a scenic cruise along the Rhine River, passing by iconic landmarks such as the Lorelei Rock and the Marksburg Castle. Wine lovers can indulge in wine tastings at local wineries, while history enthusiasts can explore the charming towns of Rüdesheim and Bacharach, steeped in history and tradition.
Germany's Best Tourist Spots Await You
Germany's top tourist spots offer a diverse range of attractions, from historic landmarks and vibrant cities to stunning natural landscapes and cultural treasures. Whether you are interested in history, culture, nature, or simply enjoying the good life, Germany has something to offer everyone. So pack your bags, embark on a journey, and discover the best that Germany has to offer.