Sushi is a Japanese dish of prepared vinegared rice (鮨飯, sushi-meshi), usually with some sugar and salt, accompanied by a variety of ingredients (ねた, neta), such as seafood, often raw, and vegetables. Styles of sushi and its presentation vary widely, but the one key ingredient is "sushi rice", also referred to as shari (しゃり), or sumeshi (酢飯).Not everyone has a liking for Far East food, but its picky lovers are always seeking new restaurants. They get particularly more selective when it comes to sushi, so this week I am going to offer you a selection of some of the best spots in the city.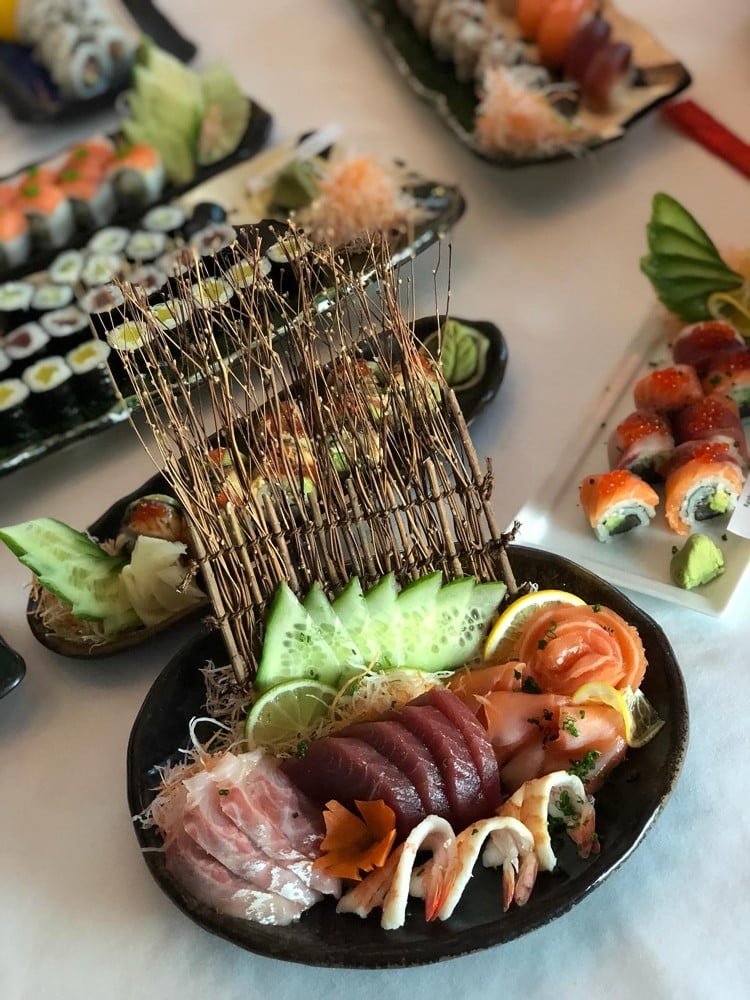 Our first stop is the two-Michelin star Spago, the iconic restaurant of world-famous chef Wolfgang Puck, which is located inside The St. Regis Istanbul hotel, an indispensable destination in Nişantaşı.Here, different tastes from all over the world are available for fans of gastronomy. But this time around, sushi, one of the signature foods of the Far East, is the starring character. Istanbul Spago, amongst all Spagos in the world, is the first restaurant to offer the first sushi service. The authentic flavors and artistic presentations of the special sushi menu, which began to be served at Spago Istanbul as of January, are outstanding. I got all the details from Alex Resnik, the senior operations partner of the Wolfgang Puck Fine Dining Group, who visits the Istanbul branch very often.
Prepared by Satosan, one of the masters of Far East cuisine, the menu includes 49 different sushi alternatives. Classical Maki Roll, Sashimi and Nigiri varieties along with some special flavors such as Spago's special Spago Ebi and Spago Avantgarde appear on the menu as well. Vegetable tempura, soybean edamame and seaweed salad wakame, classic tastes of Japanese cuisine, are indispensable items on the menu. The view of Maçka Park and the spacious winter garden in the terrace area are ideal for a mystical sushi experience. If you are passionate about sushi, you definitely have to head to Spago to experience its totally new menu!
Sushimoto is another option I would recommend. You may recall this restaurant, located in Armutlu, Etiler, from Fly-Inn Beach Club in Çeşme, İzmir. The venue frequented by celebrities is as popular as the popular holiday destination Çeşme. It is particularly popular among people who wish to enjoy sushi far from the eyes of the public because of its secluded location.
The restaurant is decorated quite modestly and cozily. Asian plates on the walls, retro wallpaper with Japanese lettering, the simplicity of the tables and the warmth of the ambience inside will impress you. Decorated mainly in black and red, the venue is relaxing and cozy. Owner Murat Patavi took care of the design and nailed every single decoration detail. I especially liked the seabass carpaccio and seared scallop. Plus, the sushi "Kill Bill" and "Ginza Roll" must definitely be tasted. If you are not a sushi lover, "Beef with Honey and Pepper" is another interesting and satisfying option.
By the way, please note that Sushimoto has prepared a special menu for St. Valentine's Day. You are more than welcome to give it a try with your loved ones on this very special day.Offering traditional sushi culture with its distinctive touch, Sushimoto has quite an interesting menu for St. Valentine's Day. This menu, vibrant with the special flavors created by chef Sujit Liamlun, stands out with rolls such as Ginza roll, spicy tuna avocado, sushimotoroll and ebi tempura along with sakesashimi and magurosashimi. On the other hand, a classic Sushimoto dish, "SeabassTradito" or "Maguro Mushroom," will just blow your socks off! Truffle oil Seabass Carpaccio, Seared Scallop, Ama Ebi Tempura and Tiger Pawn, which are in the "Motostyle" section and all classic Sushmoto dishes, are tastes that must be experienced. After the whole course, you can try the venue's herbal tea selection. My favorite is Chai Masala, an Indian tea with some strong spices. Pay a visit at the first chance you get.
And our last stop is the IST TOO restaurant at the hotel Shangri-La Bosporus Istanbul. The unlimited sushi menu brings the zest of the Far East to the city. Bringing different tastes of international gourmet cultures and food lovers together, IST TOO has previously organized tasting days for the cuisines of several countries. It has even turned these days into a festival. Now it's time for Japan! Different sushi varieties as well as some entries such as miso soup offered on the menu and flavors prepared in accordance with Asian traditions. They are all available for sushi lovers who are after the feat of taste, every day between 12 p.m. to 3:00 p.m. and 6 p.m. to 10 p.m.What's more, you can enjoy unlimited sushi rolls between 6 p.m. and 10 p.m. on Friday and Saturday nights.I particularly loved the dragon roll and spicy tuna, and the salmon offered as sashimi was quite delicious. What I liked the most was the traditional bamboo plates on which the sushi was served.The plates' shapes remind you of a boat and are simply works of art.I recommend that you try the sushi menu prepared with the special touches of Nattawat Kaewkla, a special sushi chef of the Far East, as soon as you can. I believe that enjoying the sushi experience at the restaurant designed by the world-famous architect Andre Fu will surely be a different one for everyone.