How to make chicken cutlet at home is very easy.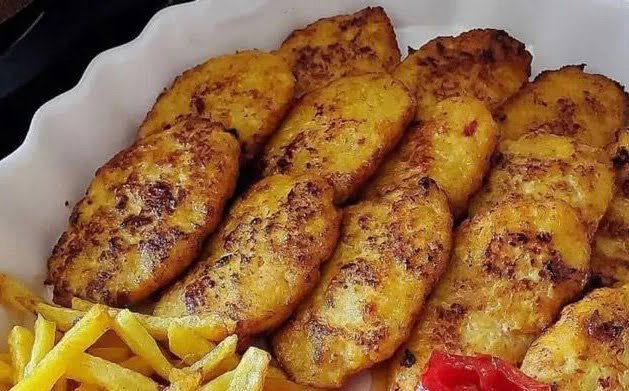 I have tested this chicken cutlet several times before, by changing the ingredients, I got an excellent result that has both a great taste and flavor. I suggest you make it once. This dish is one of the simple noni dishes and noni dishes with chicken that you can prepare in less than 45 minutes, and if you use rice, don't forget the fried tomato.
Necessary ingredients for preparing chicken cutlets with eggs
Ingredients quantity
Minced chicken (mixed thigh and breast) 500 grams
3 medium potatoes
1 large carrot
2 medium eggs
Pooz Sokhari 2 tablespoons
Salt, black pepper, paprika, turmeric, spices for chicken as needed
How to make delicious chicken cutlet at home
To have a delicious chicken cutlet, it is enough to boil one of the potatoes and grate the other two raw, and then take almost half of the water from the grated potatoes. Then grate the onion and carrot, it is better to take the juice of the onion completely and then mix it with the minced chicken and mix it well, the amount of carrot depends on your taste, now it is time to add the cooked chicken and spices, then potatoes again. Grate it and add it to the chicken mixture. At this stage, add all the spices and eggs to the mixture. Then stir the liquid well for 1-2 minutes until it becomes sticky.
Allow the prepared liquid to rest for half an hour, and then add some regular breadcrumbs and knead the mixture a little, and now pour some curry oil into the pan to heat it up, and then remove the liquid and shape it inside. Fry oil, fry well on both sides for about 5-7 minutes. You can serve this cutlet with rice, be sure to use fried tomatoes and fried potatoes for the side of the chicken cutlet, it will be great.
How to make delicious chicken cutlet without eggs
The second recipe that I want to teach you is without eggs, because many people are allergic to eggs, or there are no eggs at home and you want to make chicken cutlets, so this tutorial can be great for you.
Necessary ingredients to prepare chicken cutlet without chicken
Chicken breast: 1 whole piece (you can also add half breast and thigh)
Raw potatoes: 2 pcs
Onion: 3 pcs
Garlic: 2 cloves
Wheat flour: 1 tablespoon
Salt, black and red pepper, turmeric and pepper (Turkish pepper) as needed
Melted saffron: 1 tablespoon
Teaching chicken cutlet without eggs
First of all, grind the chicken breast and then wash the potatoes well and then grate the potatoes and onions in the smallest way and then squeeze out as much water as you can, in this step add all the spices, saffron, arad Add to the chicken and then add the potato and onion mixture to the ingredients and mix well. So that the ingredients become completely sticky, if you have a food processor, you can pour the ingredients into the food processor. After combining the ingredients, put it in the refrigerator for half an hour to rest.
To cook, pour oil in a pan, remove the ingredients as desired and fry the cutlets on both sides in floating oil with medium heat (if they are fried in floating oil, they will be more beautiful and the kernels will be cooked), the important thing is that the cutlets are crispy and The oil is delicious and hot.
Key points of teaching chicken cutlets without eggs
You can put half of the breast and the other half of the thigh.
You can add some dry or fresh parsley to the cutlet.
You can also add two tablespoons of breadcrumbs.
I add wheat flour so that the cutlet does not run out.